Fans Fear for Alexis Skyy's Safety After Trouble Grips Her Neck in New Video: 'She Looks Scared'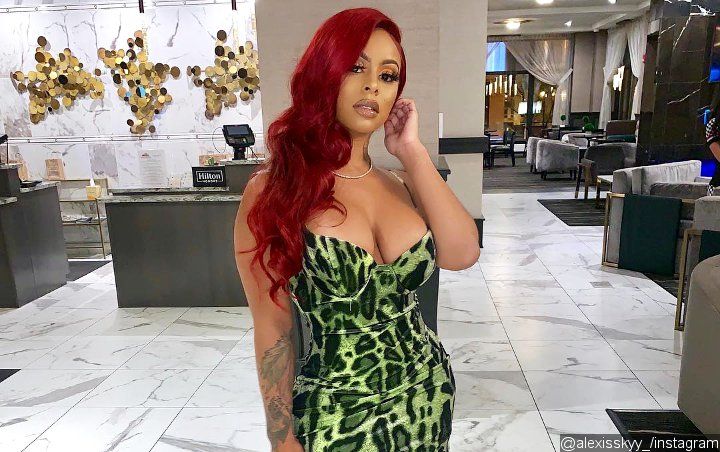 The 'Love and Hip Hop: New York' star is seen in the video trying to release herself from her rapper boyfriend's grip multiple times, but she fails to do it.
AceShowbiz –
Alexis Skyy's relationship with Trouble is surely one that social media users are not fond of. And it just got worse after the rapper shared on Instagram Stories on Thursday evening, August 15 a video of him gripping her neck seemingly as a way to show his affection towards the "Love & Hip Hop: New York" star.
In the video, Alexis could be seen smiling while saying, "I love him telling me what to do," to the person behind the camera. Meanwhile, Trouble was too busy grabbing her neck and pressing his face against her to even respond. The VH1 personality tried to release herself from his grip multiple times, but she failed to do it. She only succeeded in the end of the video.
Even though Alexis was smiling the whole time in the clip, her fans were concerned. Many told the star to "blink twice if you need help," while another pointed out that "she looked scared at one point." Someone else commented, "First of all he is def givin off crazy vibes and she was def uncomfortable hard to watch."
However, Trouble has assured them that he will not ever beat his reality TV star girlfriend. Taking to the comment section of The Neighborhood's post of his video, the "Kesha Dem" spitter stressed, "Never Beat on a female in my life an (sic) never will.. I jus knock dat Bottom loose as she loves me to. We preshate yall concern and worry though."
But people weren't buying it. "Keep your hands off her neck and stop making her do dumb s**t she not your property," one user blasted him. One other told Trouble that it "looks differently to us," as an individual slammed him, "So why not move your hands when she tries to pull them off? Buy a clue."