Ashley Graham Dances Topless for SI Swimsuit, Olivia Culpo and Aly Raisman Pose Fully Nude
goes sultry for her 2018 Sports Illustrated Swimsuit spread. In an Instagram video shared by the mag and taken from a photoshoot for its special annual edition on the tropical island of Nevis, the 30-year-old model can be seen dancing sexily with nothing but her hands covering her busty assets.
Photographed by Josie Clough and posted on the social media on Tuesday, February 13, the video finds Ashley shaking her hips while topless, with only bikini bottoms protecting her modesty. She also models an array of skimpy bikinis, including swimsuits from her own line Swimsuits for All x Ashley Graham, and even a risky thin halter top.
Sports Illustrated Swimsuit, which shared the video the same day the 2018 issue debuted, wrote alongside the post, "@theashleygraham is back for a third year with #SISwim. And it might just be her hottest year yet!"

Ashley, who is also "" judge, initially made Sports Illustrated Swimsuit history in 2015 when she became the first plus-size model to appear in an ad featured in the annual issue. A year after she starred in that Swimsuits For All, she earned her own spread and cover, and she is now a regular in the iconic issue.
This year's cover girl is Danielle Herrington. Ashley took to her Instagram account to congratulate Danielle for her huge accomplishment, writing, "DANIELLE!!!! Tears of joy for you this morning! Congratulations on breaking even MORE barriers being the 3rd black woman to ever grace the cover of @si_swimsuit! I have so many emotions😭 SOAR BABY GIRL!! @danielle_herrington_."
revealed its hotly-anticipated cover on Tuesday morning, unveiling relative newcomer Danielle as the lucky model to land the honor of posing on the front of the issue. The 24-year-old beauty became only the third black woman to ever grace the cover of the annual issue, which launched in 1964.
Danielle joins an impressive pair of women who also boast the accolade. Megastar appeared on the cover in 2007, while supermodel was the cover star in both 1996 and 1997. Danielle first appeared in the magazine's swimsuit issue last year when she was announced as one of the publication's Rookies.
Even though this year's issue was conceived and shot before the #MeToo movement heated up late last year, editor MJ Day said it's not just about women in swimsuits. According to the editor, the mag's "creating and giving platforms to these women" and presenting them as multidimensional people. Indeed, it debuted a #MeToo-inspired photos just days before its cover.
Sailor Brinkley Cook, and Robyn Lawley have all with "truthful" words painted on their bodies. Joining them for the black-and-white shoot are , who was Miss Universe in 2012 and is one of the finalists for SI's Rookie of the Year, and 23-year-old Olympian .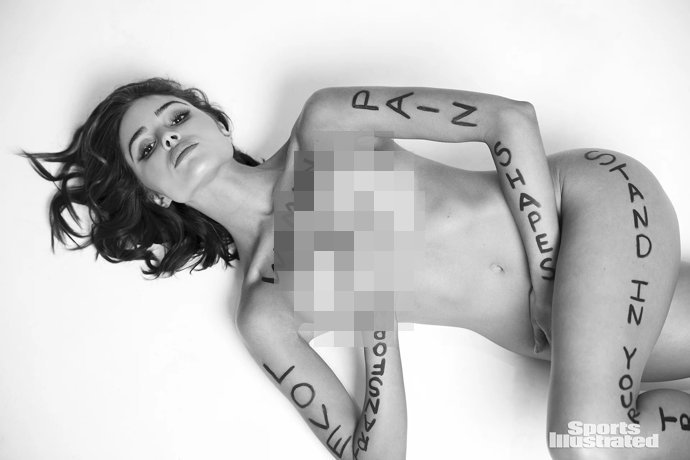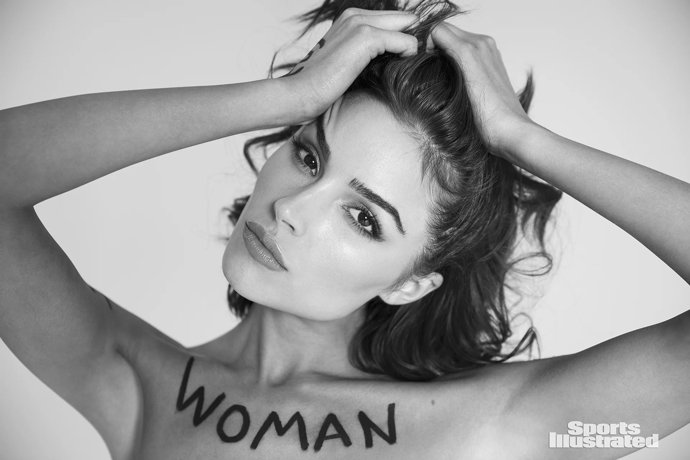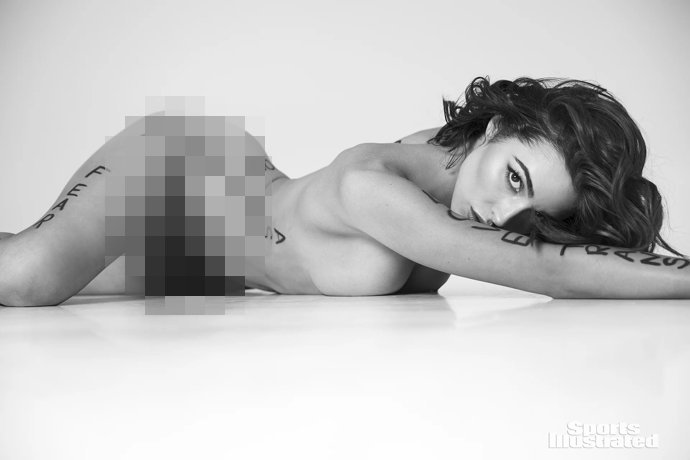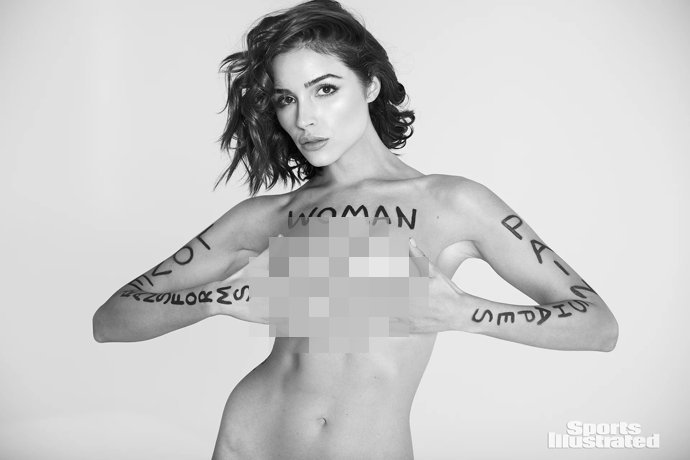 Olivia wears nothing as she strikes some poses with phrases like "woman," "love transforms" and "imperfect" painted on her body. Aly, meanwhile, has empowering messages written across her body, including the word "survivor" across her chest. The phrases "fierce," "live 4 you" and "every voice matters" are painted across her arms.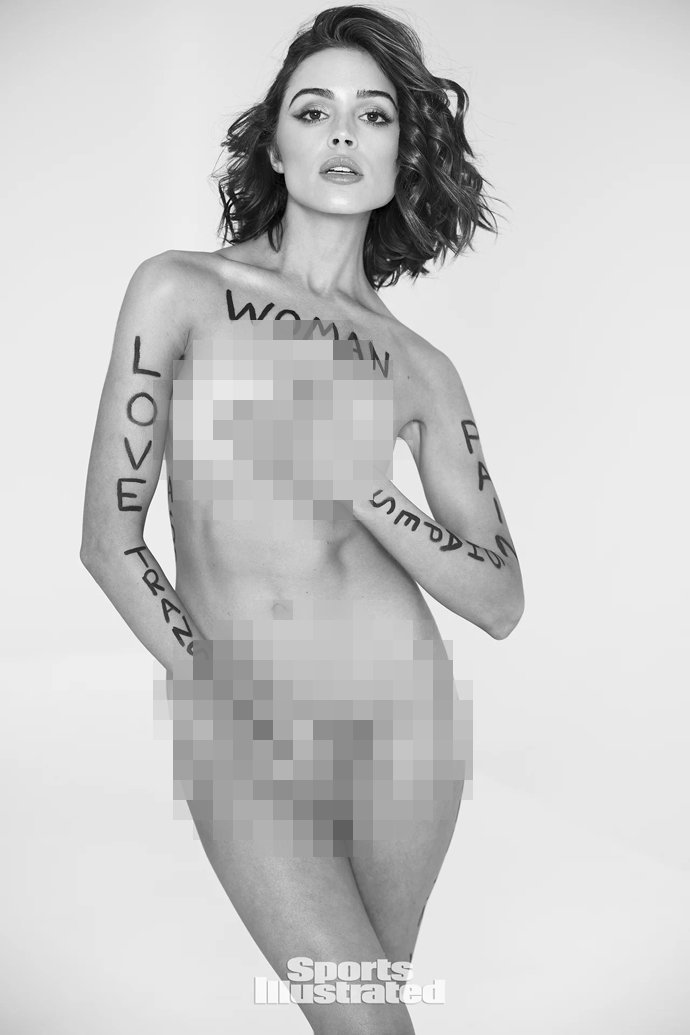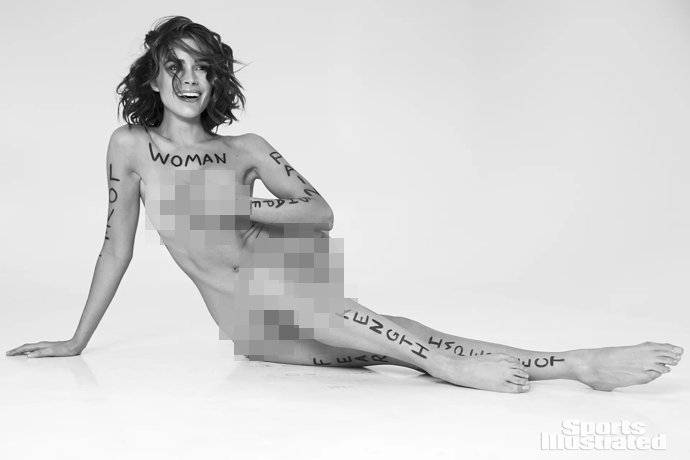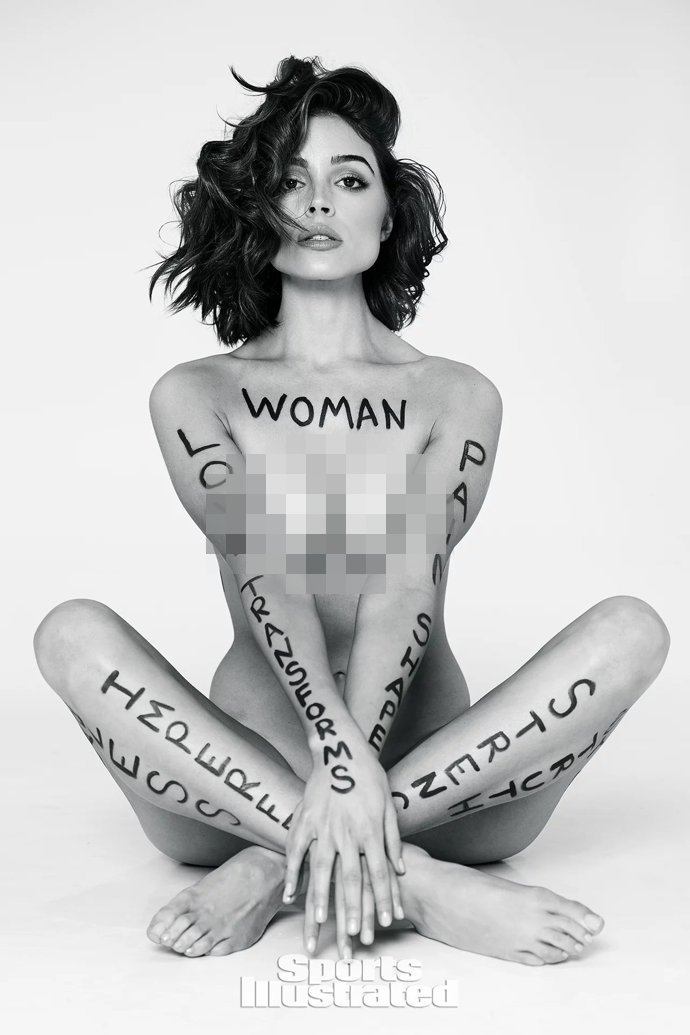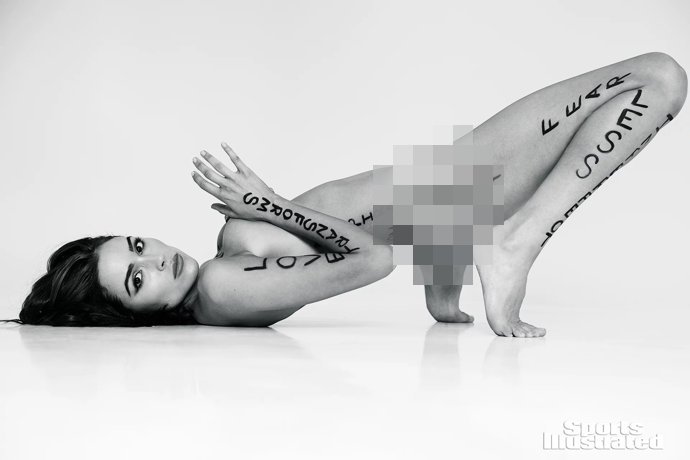 The young Olympian, who accused former U.S.A. Gymnastics doctor Larry Nassar in November and has continued to voice her support for survivors, also flaunts the phrase "abuse is never OK" on the side of her torso and highlights the words "trust yourself" on her leg. Additionally, the words "Women do not have to be modest to be respected" can be seen written all the way down her side.