Bella Hadid Shows Off Major Underboobs in NSFW Pic
has posted another jaw-dropping sexy photo on Instagram. 's little sister uploaded a behind-the-scenes image from a photoshoot which featured herself going topless as she showed off her underboobs.
In the photo, the 19-year-old model was seen wearing nothing but black panties and a sequined collar with crystal beads that ran all the way down her stomach. She struck a seductive pose as she placed her right hand on her chest to cover her assets. Making her look sexier were her brown messy bob hair and smokey eyes.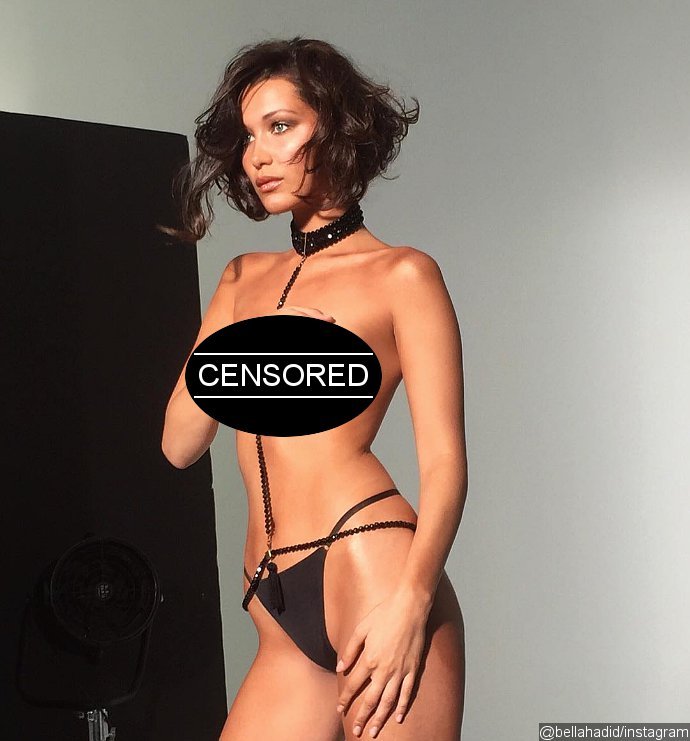 "Sorry mama," she captioned the hot snap as she revealed that it's a secret project with her "dream team," which consisted of photographer Russell James and stylist Elizabeth Sulcer. Russell also posted a photo of the model on his Instagram account. "A slice of life behind the scenes. Thankyou @bellahadid for being part of this personal project so special for us all. And for being so dam cool as well," he captioned the picture.
Elsewhere, Bella's BFF posted her own NSFW snap on the photo sharing site. The racy picture, which saw the 20-year-old model flashing her butt, was seemingly taken before she attended the 2016 MTV Movie Awards.
's sister wore a pair of thigh-high strappy boots as she was helped by two assistants inside what appeared to be a dressing room. "team work," Kendall simply captioned the photo.
© AceShowbiz.com