Cardi B's Bizarre Head-to-Toe Outfit Sparks Debate About Double Standard in France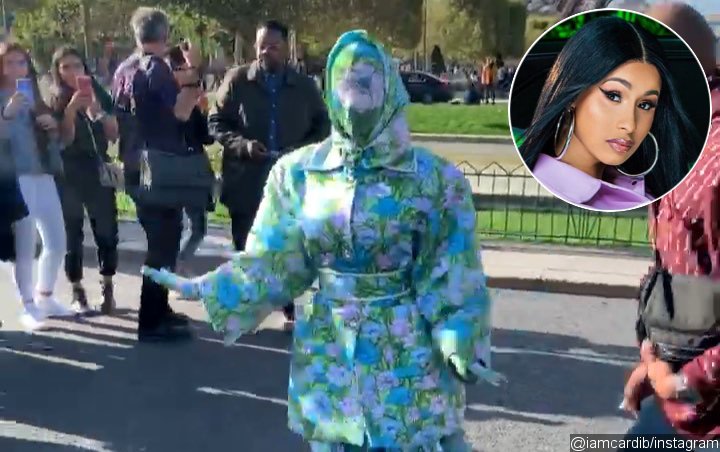 The 'Bartier Cardi' rapper is totally covered up in her floral outfit during a visit to the Eiffel Tower, causing people to highlight the hypocrisy in the country's ban on full-face veils.
AceShowbiz –
Cardi B's bizarre head-to-toe outfit in France has sparked a debate about a major double standard in the country. The Bronx femcee wore a floral outfit by British designer Richard Quinn which completely covered her face when she made her debut for Paris Fashion Week on Saturday, September 28.
While it's not clear whether the 26-year-old star was trying to make a political statement with her outfit or it was just another display of her bold style, people are calling out the double standard imposed on some women in France. The country bans Muslim women from wearing face-covering niqabs or burkas.
A violation to the law could result in a fine of up to €150. Those who break the law may also be ordered to participate in citizenship education. However, Cardi didn't seem to land in trouble despite her covered-up look during her visit to the Eiffel Tower.
People have since taken to Twitter to highlight the hypocrisy in the country's ban on full-face veils. "Game of Thrones" alum Nathalie Emmanuel was one of those who pointed this out, writing, "Gwaarrrn @iamcardib!! I hope this reminds people that Niqabs are banned in public places in France & come with a fine of up to €150."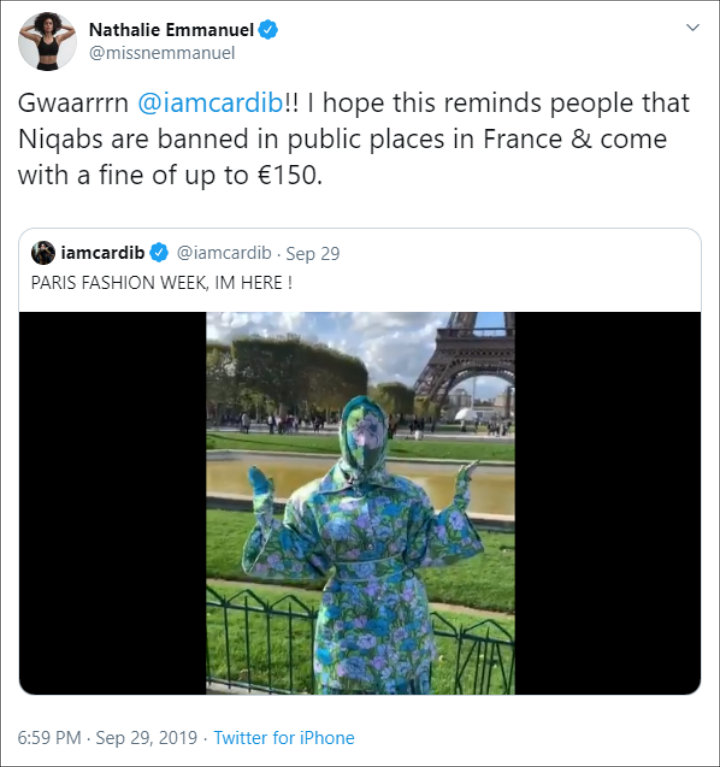 "So it's illegal for Muslim women to wear the niqab in France, but when Cardi B dresses in a 'head to toe' outfit for Paris fashion week it's celebrated ?? Make it make sense," another posted. Another user tweeted, "Soooo is anyone in France going to raise security concerns about Cardi B fully covering herself, or does that argument only apply to Muslim women in niqab?"
"Cardi B can wear this in Paris but Muslim women aren't allowed to wear the Niqab? Double standards," read another comment. Someone else similarly posted, "Religious Muslim women get slandered and humiliated publicly by the French public and government on a daily basis for wearing a hijab but when Cardi B does s**t like this you call her queen."
Cardi and her rep have not responded to the controversy surrounding her outfit. The "Bodak Yellow" hitmaker has been parading her wide range of styles while she's in the country for Paris Fashion Week.