Chelsea Handler Slams Donald Trump With These Racy Pictures
It's pretty clear that is not a fan of . The 41-year-old comedian took to social media to slam the Republican presidential candidate as she delivered a message with the help of her nearly-naked body.
The former "Chelsea Lately" host posted some photos featuring herself wearing nothing but a black thong. She posed in front of a window, back facing the camera to show the words "Trump is a butt hole," which were written across her back and behind.
"Sometimes we swim above water and sometimes we swim on the sea floor," Handler captioned the racy photo. "I'll meet you wherever you are." She later posted a similar picture and captioned it, "A germane tweet. I mean this with the utmost disrespect."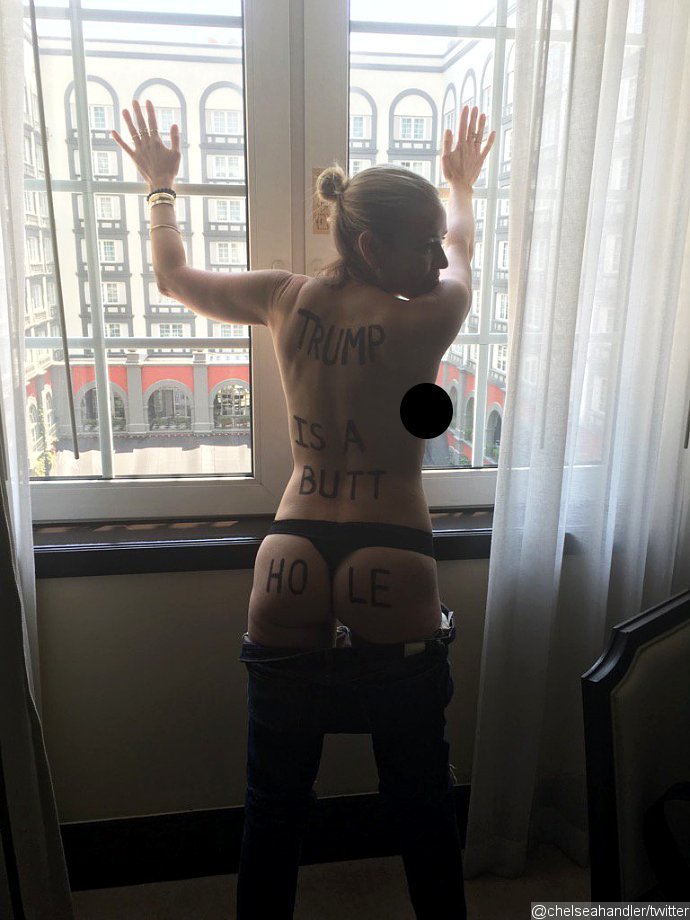 This is not the first time that Chelsea has called out Donald on social media. Previously, she wrote, "7 in 10 women have negative views of Donald Trump and the other 3 are named Melania, Ivanka, and Chris Christie." On April Fools' day, the comedian tweeted, "Here's to April fool's and to @therealdonald announcing this has all been a f**king joke."
After Donald stated that there should be some punishment for women who got abortions, Chelsea responded, "But, if trump gets elected, won't we all be punished?"
Through her Twitter account, the comedian also showed some support for Hillary Clinton as she encouraged people to vote for the Democratic presidential candidate. "It's international wome's day! Let's all raise our right hands and swear to vote for @HillaryClinton," Chelsea tweeted back in March.
© AceShowbiz.com