Megan Thee Stallion Sparks Transgender Speculation After Viral Twerk Video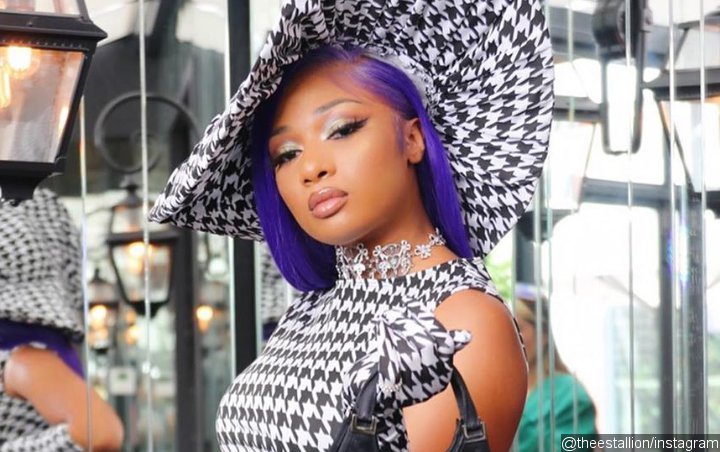 The 'Hot Girl Summer' raptress appears to have male organs in a circulating video that shows her twerking wildly in a skimpy outfit while performing onstage.
AceShowbiz –
Is Megan Thee Stallion a transgender? The 24-year-old rapper is accused of hiding her real identity as a male after her twerk video has gone viral. In the clip, taken by an audience member, the Texas-born star was shaking her booty while performing onstage.
The "Hot Girl Summer" hitmaker wore a revealing outfit which consisted of a purple long-sleeve crop top and black bikini bottoms. As she twerked facing the crowd, something seemed to fall out of the front of her bikini bottoms. People then speculated that Megan appeared to have testicles that slipped out of her underwear.
Not all, however, think so. Calling the transgender speculation ridiculous, some Internet users have shared their thoughts on the video and what they saw on it. "The internet be doing way too much smh … she's a woman bro," someone commented on the rumor.
Another confidently said, "She Is a woman, I would think someone from her city or her school would of said something by now." A third commenter slammed those who spread the transgender speculation, "People Want Her To Be A Man So Bad It's Sad, SMH!"
"Its her cheeks, a shadow separates it from her thigh but this is hilarious. Its was swinging UNUUUUSUAL BUCKO," another person suggested. Someone else similarly said, "I think it's her butt, and the angle of the light and camera. I'm from Houston and I'm standing on a prayer on this one." Another weighed in, "Bruh that was definitely a glitch or something."
Megan herself has not responded to the speculation about her gender. The "Big Ole Freak" raptress, who is a supporter of LGBTQ rights, said ahead of the 2019 MTV Video Music Awards on Monday, August 26, "You have to be confident, you have to be kind, you have to be a great friend, you just have to be unapologetically you."